drawingwithdots.com. The place for augmented reality join-the-dots and dot-2-dots.
Introduction
The drawingwithdots.com website is a place for join-the-dots (dot-2-dots). You can download one of the many examples or you can create your own. Something special about the join-the-dots examples is that they work with augmented reality. If you scan the qr-code on each example, your mobile phone will show you the completed design as a fun augmented reality preview. To see a few examples or to get a collection of 40 designs! click here. The examples are free to download and use. Not only can you download examples here, but you can also view interesting animations using the dot-2-dots as a foundation. Why not visit the Featured Post by clicking here. Or if you feel inspired why not visit the editor. The editor makes it possible to make your own dot-2-dots from scratch, using a snappy interface.
Quality Control
Each of our dot-2-dots is a unique design which has been drawn by hand and then converted into a dot-2-dot using our custom software. Each design is validated using a quality control algorithm which ensures that each design is valid and the dots and numbers are not cluttered. Once validated the design is published online.
Technology
The augmented reality data is kept on the website. By scanning the QR code on each design it takes you to the website and then tells your phone browser what needs to be done to overlay the graphics in that view. This augmented reality technology works with all modern smartphones, as it is written in JavaScript. If you are having trouble viewing the design try moving your phone nearer or further away from the design.
---
Augmented Reality in action
Fighter plane
November 2021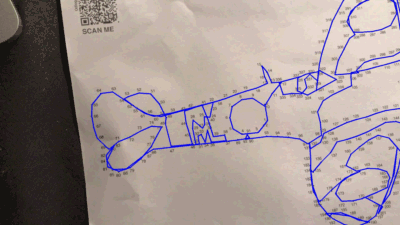 Check out this cool plane. This is a video of the augmented reality in action. Notice it jitters a little bit. This sheet has not been drawn on, it's the graphics of the augmented reality being projected using a camera equipped mobile phone.
All the examples below have an augmented reality preview embedded. Display the pdf on your computer screen or print it out. Then scan the QR code with your mobile phone. Allow the web page that opens to access your camera. Position your camera about 20 cm away from the join-the-dots picture, and then observe the augmented reality overlay.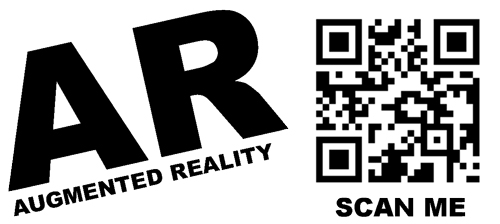 ---
Examples
These examples can be downloaded with a single click and then printed. They come in pdf format and so should be straightforward to use on any computer and printer.
airship
basketball
burger
bus
car
castle
chair
---
AR Join-the-Dots Volume One - Get the Collection.
Download today.
Relax with a collection of 40 join-the-dots inspired by a variety of every day objects and scenes. Each join-the-dots design comes with an integrated augmented reality (AR) preview. No need to install app, works with modern smart phone and browsers. Enjoy the AR preview and then relax whilst completing the design with a pen or pencil.
Available for digital download right here.
https://odlogo.co.uk/